Franciscan Ever There Care has partnered with industry's leading satisfaction management firm, Home Care Pulse. They provide us with powerful insights, resources and data that allow us to provide better care to those we serve. After completing just one month of services with Home Care Pulse, Franciscan Ever There Care was awarded the designation of "Trusted Provider" set forth by their ranking system. The award recognizes us for providing the highest standard of quality care that the Home Care industry has to offer.
This award is truly a testament to those hardworking and dedicated caregivers that provide comfort, care and compassion to every client every day. We could not do this without you.
________________________________________________________________
Franciscan Ever There Care is pleased to announce that Robin Kalanquin has joined the office staff and will be concentrating her efforts in the recruitment and hiring of all levels of caregiving staff. Robin has been employed by FETC since 2012 as a CNA, providing direct care to our clients. Robin brings a vast 36 years of direct care experience to this role. She has worked as a direct care CNA, a scheduler for a medical staffing agency and was a Director of several area group homes prior to coming to Franciscan Ever There Care. Please join me in welcoming Robin to this important role.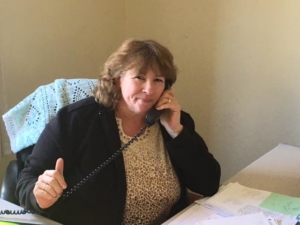 _________________________________________________________________
Franciscan Ever There Care is on Facebook!!
We have recently partnered with LTC Expert Publications to enhance our social media and online presence. Please take a moment to "friend" us on Facebook and like and share our daily content. As we grow our number of followers, we increase those who know about the services we provide and are more likely to use us or to refer a family member or friend to utilize our services
Join us on Facebook : http://facebook.com/FranciscanETC/
_________________________________________________________________
Preparations are in the works to launch Franciscan Ever There Care's "Caregiver of the Month" program. It has long been known that our dedicated field staff of caregivers is our greatest asset and we need to do more to recognize them for their for their daily acts of kindness and compassion on behalf of our clients.
In our search for our caregiver of the month we will be looking for things like: dedication to fulfilling their job responsibilities, has a team player attitude, is knowledgeable of our mission, and has a professional and compassionate demeanor.
Stay tuned for more information on this important program beginning soon!
Needs Assessment
Franciscan Ever There Care has added an interactive Needs Assessment form to our website to better serve those seeking out in-home care. The assessment is easy to complete and helps our care coordinators prioritize the most appropriate level of care for a potential client. The Needs Assessment is located under the "Helpful Information" tab and there is also a link right on the FETC homepage.