Our Philosophy of Care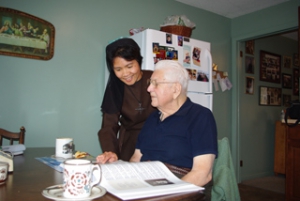 Franciscan Ever There Care believes in the dignity of the human person and the sacredness of human life. This philosophy of care stems from the mission of Franciscan Home Care and Hospice Care, a non-profit, faith-based home health care agency. Franciscan ETC is centered in the intrinsic value of each human being and is guided by the values of the Franciscan Sisters of the Eucharist and the teachings of the Roman Catholic Church.
Franciscan Ever There Care works in conjunction with the professional home care and hospice care staffs of its affiliate, Franciscan Home Care and Hospice Care. This collaborative effort ensures coordination of services and continuity of care for you and your family.
Our Motto
Your Home
Not just a house, but a home. A place where your life happens.  A safe and familiar place where holidays were celebrated, cherished family memories were made and where milestones were achieved.
Your Needs
We aim to assist with those activities of daily living necessary to remain in your home safely and securely. These needs can span everything from needing some light housekeeping and meal preparation to personal care to 24/7 around the clock custodial care.
Our Mission
The term "mission" is defined as an important goal or purpose that is accompanied by a strong conviction, calling or vocation.  We at FETC feel that our work is actually the human and spiritual extension of the mission of the Franciscan Sisters of the Eucharist and take great pride in caring for the clients that we serve.