February Birthdays:
Marie Merkin – 2/8
Suzan Moran – 2/10
Hannah Arthur – 2/14
Gail Berlepsch – 2/14
Gail Lapenta – 2/14
February Caregiver of the Month: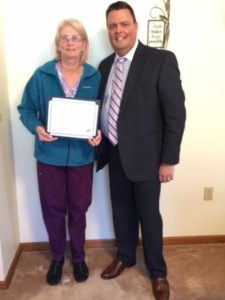 We would like to congratulate Nancy Bell on receiving February's Care of the Month Award! Nancy has worked with us for 5 years providing exceptional PCA care to our clients.
Nancy is receiving the Caregiver of the Month Award due to her willingness to take on some of our most challenging clients and never turning down an opportunity to take on extra work. Nancy has many years of CNA experience and we appreciate her hard work and dedication to our clients. The strength of her work ethic and the kindness demonstrated on a regular basis is noteworthy and commendable.
We would like to express thanks and appreciation for her hard work and dedication to our mission here at Franciscan Ever There Care. Lastly, the success and growth of our organization depends on our wonderful employees! Thank you for all the outstanding care you provide!
Congratulations Nancy!