This year when you carve your pumpkin you can also plan a menu. Discard the goopy, seedy insides of the pumpkin and save the flesh. Peel and chop the pieces into small chunks. Boil or bake the pumpkin until soft and able to mash. You could make a classic pumpkin pie, or try some of these creative ideas.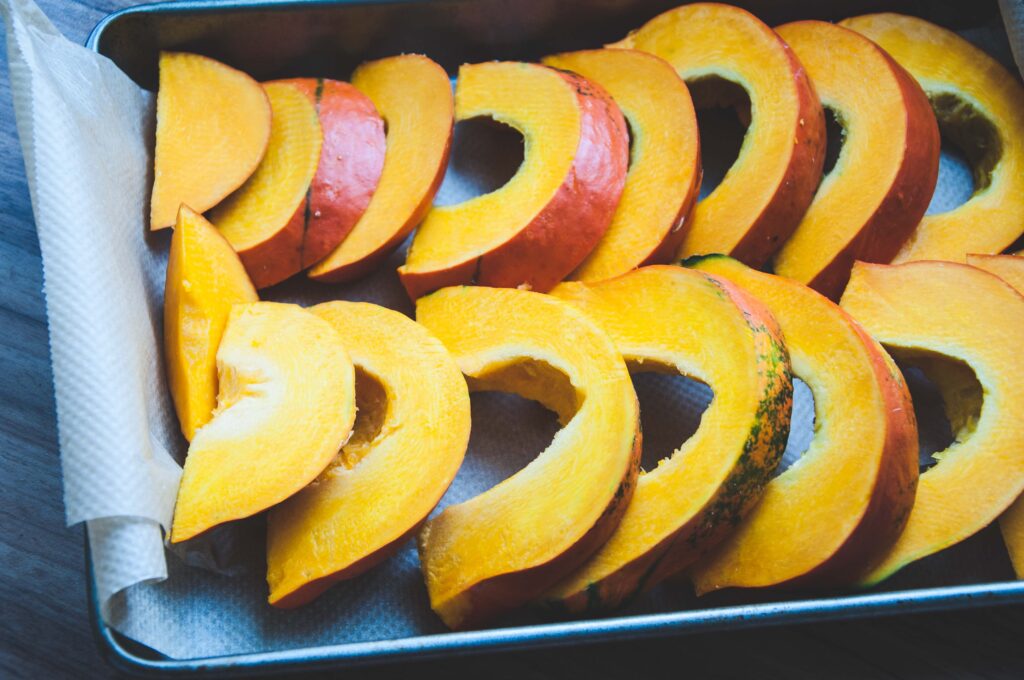 Pumpkin Breakfast Bread
1 2/3 c flour
1 ½ c sugar
1 t baking soda
1 t cinnamon
¾ t salt
½ t baking powder
½ t nutmeg
¼ t ground cloves
2 eggs
1 c pumpkin
½ c water
½ c canola oil
½ c chopped nuts (walnuts are especially good!)
Preheat oven to 350 and grease a 9×5 in. loaf pan. Combine flour, sugar, baking soda, cinnamon, salt, baking powder, nutmeg and cloves in a bowl. In a separate bowl, combine eggs, pumpkin, oil and water using a whisk. Stir in the dry ingredients until they are moist. Fold in chopped nuts.
Pour into loaf pan and bake for 60-65 min, or until a toothpick inserted into the middle comes out clean.
Creamy Pumpkin Soup
6c chicken broth
1 ½ t salt
4 cups pumpkin
1 c diced onion
½ t thyme
1 clove garlic
½ c cream or whole milk
Black pepper to taste
Heat broth, salt, pumpkin, onion, thyme and garlic to a simmer for 30 minutes. For a thick soup, puree ingredients in a blender or with an immersion blender. Simmer for another 30 minutes then stir in cream or milk. Pepper to taste, it is ready to serve.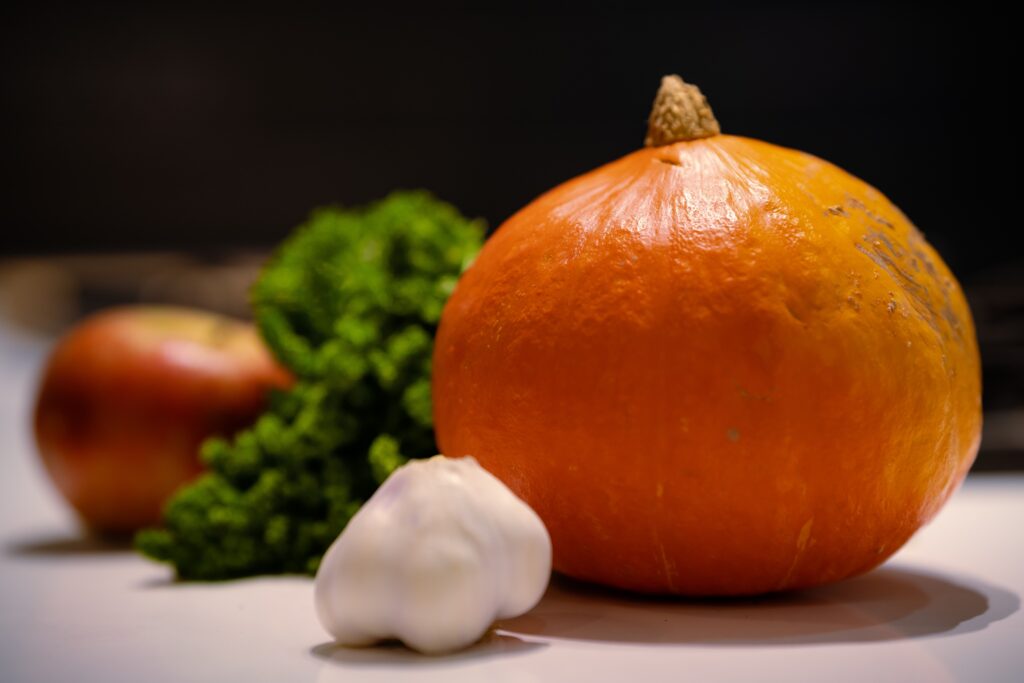 Pumpkin Curry
3 ½ c pumpkin
1 medium white or yellow onion, minced
2T minced garlic
2T minced fresh ginger
3T yellow curry paste
1/2t red pepper flakes
1t turmeric
1 large red bell pepper, cut in short lengths
1T sugar (or more to taste)
3 C milk or coconut milk, or substitute vegetable broth
2/3 C whole cashews
Sauté onion, garlic, ginger and red pepper flakes for 2 minutes. Add bell pepper and curry paste, cook for 2 minutes more, then add pumpkin. Cook another 2 minutes, stirring frequently.
Add milk, sugar and turmeric. Let simmer on medium heat.
Cover and simmer for 10-15 minutes, stirring occasionally. Taste for sweetness and add sugar or salt as desired.
When pumpkin is tender, add cashews. Cook for 3 more minutes.
Serve over rice.
Pumpkin Crumb Bars
Crust:
3 c crushed graham crackers
½ c brown sugar
½ c melted butter
Mix well and press into a 9×13 pan. Back for 15 minutes at 350.
Filling:
¾ c melted butter
4 oz soft cream cheese
2 c pumpkin
4 eggs
2 c flour
2 t baking powder
1 t salt
½ t each: ginger, all spice, nutmeg, cinnamon
Beat together butter, cream cheese and brown sugar until it is fluffy. Add pumpkin and continue beating until blended. Add eggs, beating well after each egg.
In another bowl combine flour, baking powder, salt, and spices. Slowly add this to the wet mixture and use a whisk to stir. Mix until just blended, then pour into crust.
For the topping: combine 2/3 c flour, 1/3 c nuts, 2/3 c brown sugar and 1/4c melted butter. Crumble the topping over the filling.
Bake at 350 for 45 minutes. Allow to cool completely before slicing. Refrigerate for a firmer texture.