August Birthdays
A special HAPPY BIRTHDAY to all those caregivers celebrating their Birthday's this month. We give thanks for them, their lives, and the talents they bring to our mission. We hope that their Birthdays are joyful and that the coming year holds health and happiness for each of them.
Mabel Gonzalez, Live-In August 2nd
Vivian Adombiri Naba, Live-In August 15th
Gale Reynolds, Homemaker Companion August 16th
Marian DeRoy, Homemaker Companion August 20th
Norma Brown, Live-In August 24th
Kathleen Winarski, Homemaker Companion August 24th
---
August Caregiver of the Month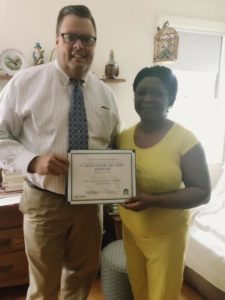 Margaret Kumi has been with us right from the start. She is a 24- hour live-in caregiver that wins over the hearts of all of the clients and clients families that she cares for. She is always eager to work and has taken on several of our more sensitive cases with ease. Margaret can always be seen with a smile on her face and exudes a quiet confidence in her daily duties.
We chose Margaret Kumi as our August Caregiver of the Month due to her quality work, her dedication to our mission and the grace in which she carries herself.
Thank you Margaret for ALL that you do!!!
---
We are thankful for the quality caregivers that choose to work for us. These are some of the positive comments made by our clients in our July satisfaction surveys.
Franciscan Ever There Care is very good. The caregivers are always here when they are supposed to be.
Franciscan Ever There Care is very attentive. They have very caring people working for them and if there are ever any problems, the work to correct them
I would tell others that Franciscan Ever There Care is a good company to hire because it's a good and honest business
Franciscan Ever There Care is very competent and professional. The caregivers that they have appear to be well trained and very acceptable.
Franciscan Ever There Care is a good company and is priced reasonably.
Franciscan Ever There Care is very responsible and caring